Simultaneously designing figure and ground
Close collaboration with urban, landscape and architectural designers characterizes Edit Szabo's design process. Each piece is organically integrated into its environment, thereby revealing the essence of the space. In practice, being involved in the design process from its earliest stage, the concept takes form by seeking harmony while continually reflecting on the evolutionary process of the space. The piece is not merely decorative; it does not feel foreign, like an afterthought – on the contrary, it becomes meaningful as the integrating element of its setting, as a summary or concentration of the space's particularities.
Skillfully wrought objects
Edit Szabo's creations pour material into finely wrought forms using a sculptor's tools as well as artisanal skills. They exhibit finely crafted details and unique features, whose careful shaping is evident during the production of prototypes through to manufacture of the final product line.
Durable material, natural constituents
Edit Szabo's favoured material pledges durability thanks to the hardness of ceramics and their chemical properties. By hand and sculptor's tools she creates her pieces from noble, long-lasting materials that age aesthetically, preserving their value. While this slows the creative process, in exchange the quality of her pieces does not diminish, even over long periods of time.
The uniqueness of her creations is enhanced through experiments with the inherent possibilities of these natural raw materials. Her current collection uses a new personal recipe for a silicate-based inorganic material, creating a more noble synthetic stone. This new material can be easily coloured, its physical properties making it ideal for the creation of objects and furniture suitable for indoor and outdoor use.
Functional architectural and landscape elements created for buildings and open spaces
One of Edit Szabo'smain bodies of work is the creation of street furniture. She typically bases the plasticity of her pieces based on the architect or landscape architect's spatial concept, within which she integrates formal and functional solutions. A good example is her design for street benches heated with thermal water, as part of the conceptual design for Hódmezővásárhely's pedestrian street, or the ceramic boundary wall system for gardens and parks produced at the Zsolnay factory, a building block systemwhich can be serially manufactured. The Flokkk street furniture set broadcasts wifi in public spaces, with a goal of re-structuring urban interaction and re-interpreting the relationship of the public to public space. She is currently designing seating that can be manufactured in small runs and used both indoors and outdoors.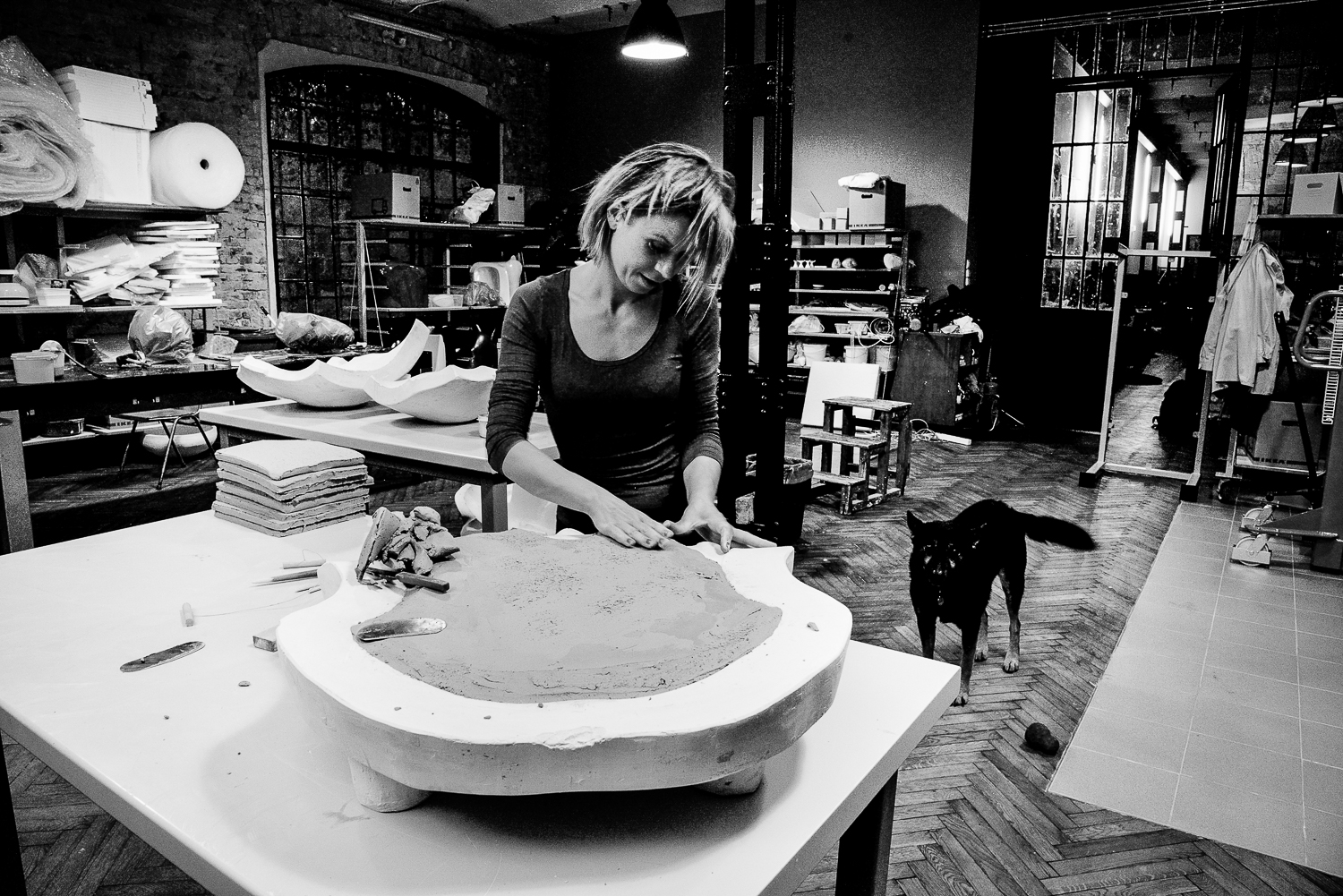 Currently she is involved in different projects in the world: mostly in the UK, France, India and China. The latest work of Szabó is a series of animal-based furniture called TAME which consists of four animals deeply rooted in human mythologies: the Bear, the Deer, the Wolf and the Fox.
She regularly introduces her works in international design fairs like Design Shanghai Show, London Design Festival and Paris Design Week.
She regularly designs and makes distinctive water features, which incorporate water and functional yet sculptural works. Examples are the sculptural group found in an interior garden on Paulay street in Budapest, and the drinking fountain installed in the Palm house at the Széchényi baths. Because of their organic materiality, ceramic spatial elements easily form open space in an accessibly human, naturalistic way. Their becoming formal language creates a bridge between the natural world and built form.
Edit Szabo also designs and manufactures bespoke stoves and fireplaces. These large-scale objects organically integrate into the architectural concept. One of her works forms part of a reconstruction of a Bauhaus villa in Buda, where the cladding for a new fireplace and winter garden fountain makes use of the original Zsolnay stove tiles that were found on site. In the case of historical landmarks, she re-construes and paraphrases rather than simply copying or reconstructing stylistic features. Using her own structural logic she creates a new work, which can be called a memory of the past item. An example is the baroque-inspired, functional ceramic stove found in the Dunaharaszti Laffert-kúria, during the manufacture of which she made use of baroque period fundamental design elements (symmetry, distortion, illusionism, scenic effect and contrast) whilst using modern materials and design solutions.
Edit Szabo's specialty is the design of cladding which performs specific functions. In 2004 she patented an award winning ceramic wall covering, Adessys diffuser (researched under the MOME doctoral program's "architectural elements for acoustic design of spaces"). In collaboration with UILandscape Architects, she designed a porcelain sculptural covering listing the names of victims for the Holocaust memorial wall competition. For her works in progress she is developing a new inorganic material.
Szabo Edit's conceptual artworks comprise images, reliefs and sculptures that reinterpret the logic and rationale of a given architectural space using new perspectives and artistic techniques to highlight unusual formal solutions. As a Kozma Lajos Artisanal Scholar (2008-2009) she developed her own strategy for imaging space, which she elaborates in the TOPO-GRAPH relief series. In one of her later projects, the Forest sculpture series, animal forms simplified into pure geometric shapes display moments of realism, while the sensuality of their curved forms invites touch as a means to understanding their true figures.
Mirroring the formal language of her larger scale works, Edit Szabo also creates single run tiny porcelain conceptual gift objects, such as the porcelain origami series or the Seeds of wisdom series. In addition to producing gifts and tableware, she is interested in the potential architectural applications of porcelain.
Teaching, lecturing experience
Since 2009 she has regularly lectured and taught practical courses at Moholy-Nagy László University of Art and Design (MOME) in Budapest. From 2009-2011 she taught Formal Studies in the architectural design program, concentrating on analytical design of space and form, and its application at architectural scales. In 2011 as part of a modeling course group project, her students majoring in architecture designed and realized an object at architectural scale, creating illusory spatial effects. In 2012 she taught a course at the faculty of ceramic design where students explored the interrelation of space and form, and the construction of objects testing the limits of the material. In 2016 Spring semester was her last workshop program in Shanghai Art and Design Academy about designing based on the paraphrase method by using a natural pattern.